United stopping Duty Free on board. Last Friday it was decided by the major US airline management that United Airlines had decided to follow their competitors, American & Delta and were also terminating their inflight duty free shop service.
This now means that virtually none of the airlines based out of the USA provide an on board Duty Free Shopping facility on board. In the case of United, it was declared that the decision was forced on them by falling sales and an inability to compete with other stores, especially airport shops.

So, for those of you out there looking to shop on your travels, this option has now been removed. United's main HUBs include Newark, Houston, Washington Dulles and San Francisco and all these airports have duty free stores in their departure terminals. You can check these details on our global shopping database.
The Duty Free shopping industry can be a strange business, especially in the USA, where few airports have extensive online catalogues for their stores and even fewer have an online pre-order portal, so it won't be easy to find advance information. Where links are available, we will feature them. We are updating on a regular basis.
Many travellers, won't be the least bit upset by the disappearance of the inflight duty free shop, many frequent travellers saw it as a disturbance to their sleep after eating their meal and others just couldn't be bothered to buy. (Airlines have a miniscule 6% of the global Duty Free market).
Nowadays, airlines want to sell you their "ancillaries", like food, drink, insurance, car hire or upgrades to premium class and clearly questions are now being asked by the airlines as to whether the duty free shop is profitable and fits with their new commercial models.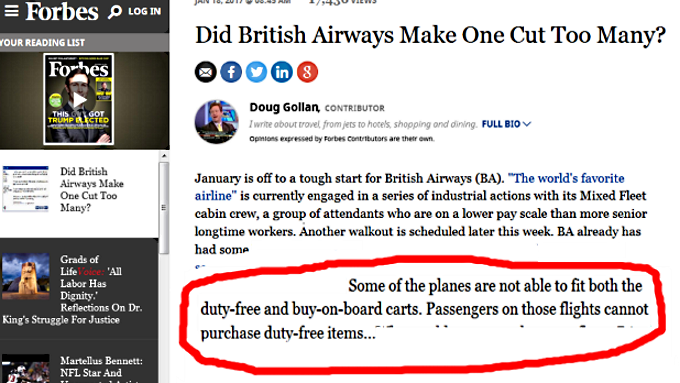 British Airways has moved into paid catering in Europe and are yet to do the same on long-haul flights. But as the above article from Forbes explains, a halfway-house doesn't serve anyone properly, nor does it keep them all very happy.
Watch out for more airlines dropping their duty free shopping in the future and concentrate your shopping in the airport or downtown for a better selection of products.
But, one thing to watch; can you carry all that shopping with you on board?
Check before you fly for all relevant duty free information about your trip.
Internacional: Para buscar tiendas libres de impuestos, catálogos y precios, ingresa tu ciudad o país de destino y haga clic "Go". Cuando encuentre la información de su destino haga clic en el icono rojo de Aduanas para la búsqueda restricciones aduaneros.

Para encontrar lojas duty free e os preços, inserir destino, click e Go! A cota de isenção alfandegária refere-se ao seu país de chegada e não ao país de partida. Os regulamentos alfandegários podem ser encontrados clicando no botão aduaneiro para a esquerda ou procurando seu país de destino.

búsqueda-pesquisa: Perfumes, fragrâncias, cosméticos, beleza, tratamentos, Perfume, fragancias, cosméticos, belleza, tratamientos